Bionow Event: Life Sciences Careers Conference Summary & Review
15th March 2022
Bionow hosted their annual careers fair on 15th March. It is virtual and free to students and had a range of speakers discussing careers and opportunities within the life sciences sector for science students. Below is a summary with some key take-aways of the day: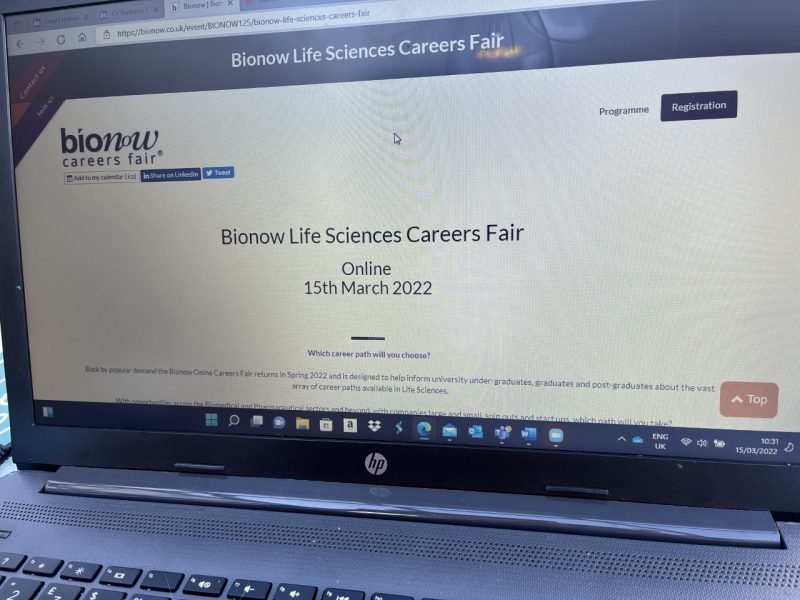 In the morning session Behruz gave an overview of what the UK life science landscape looks like overall and gave a CV workshop as well as promoting how EDI, salaries and flexibility have a huge impact in the future jobs market.
Adam Isle gave a comprehensive overview of what AstraZeneca have on offer in their early talent program that emulates their value of 'Growth through Innovation' from internships, placements and graduate programs.
Debbie Hogg from Elanco chaired a panel discussion on jobs in the pharma and manufacturing space. I think Nish Pawa from Fujifilm Diosynth Biotechnologies articulated it well in response to a question on how Covid has restricted on-site work experience and placement opportunities for students by saying "don't be afraid to apply, attitude can be better than experience so passion, drive and willingness to put the work in [will be valued]". Deborah Hatton from Teva reminded students on the power of networking and Rob Oliver empowered with the advice 'Don't underestimate your soft skills.'
In the afternoon, talent experts from Qiagen, RSSL, Quotient, Perfectus Biomed and Charnwood Molecular discussed roles and opportunities in research in a panel format. Kevin Walker summed it up nicely by saying "It's never been a better time to be on the talent side of talent acquisition!". The conversation flowed across topics such as highlighting the need to not self reject in your application process and being open to opportunities, how flexible working and hybrid working is definitely on the table and employers are listening to employees about what works well for them in shaping their culture and workplace going forward.
Helen Smith gave a comprehensive overview of GSK and what they have on offer for their graduate opportunities. She gave some advice on performing in a strength based interview rather than a competency based interview as well as some great points: 'do your research and reflect on how you meet the GSK values and expectations. Know yourself and be yourself.'
Finally the last panel discussion of the day covered what opportunities are available for scientists that want to diversify out of the lab and debating the differences in going for large companies versus small companies. Recruitment is a potential career opportunity! A lot was covered but 'Do what you love' was the concluding sentiment shared by Stella James, executive director Business Development at Bionow.
---
Related Articles